At the heart of the Internet is the Domain Name System, or DNS. The first thing the Ambridge Garden Club needed to do was to register a domain name. There are many sites on the Internet which provide Domain Registration, but I went with a company which also provides 'Internet hosting', that is the ability to rent a computer, or a virtual computer, from the same company to simplify billing.
Choice of supplier
There are companies from which you can buy combinations of a domain name and Web Hosting often with some specific interface to make it easy to build web sites. Some will also forward email, or even host email, but for an example Small Organisation Server I wanted some flexibility and to be able to select 'best of breed' components, hence the generic decision to go down the Hosting Provider route, for a company which provides the kind of system from which the rest of the services the Ambridge Garden Club needs.
There is quite a large choice in such systems, and at this stage it is worth doing some research, but I chose 'Mythic Beasts' – an Internet Service Provider I have dealt with before, and their service and supports has been prompt and knowledgeable. Their pricing is also open and transparent. There a many places where you can register a domain on the internet very cheaply for the first year, but have to pay much more for subsequent years, or find you are automatically paying for 'options' such as security certificates from them that you did not necessarily want (or at least not from them)
The cost to register 'ambridge-garden-club.org.uk' was £7.20 for the first year, and the same for subsequent years, including VAT.
Step by step
First the Ambridge Garden Club Treasurer should to go https://www.mythic-beasts.com/ and sign up as a customer. They will need an email address, a real postal address etc, and can set up a separate billing address.
They should log in to their account and click on Domains, and then on 'New Registration' where they will see a screen like this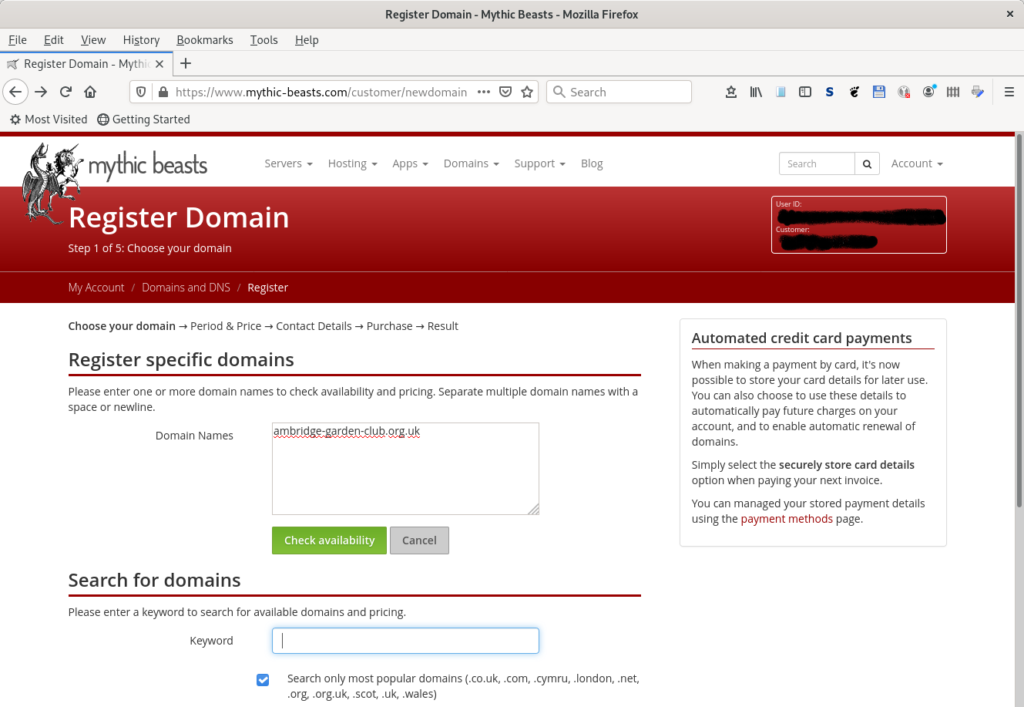 If you know the domain you want to use you can register it directly, or you can search for domains and see some options. Different types of domains have different costs, so a domain that ends .london for example, is more expensive than one that ends .org.uk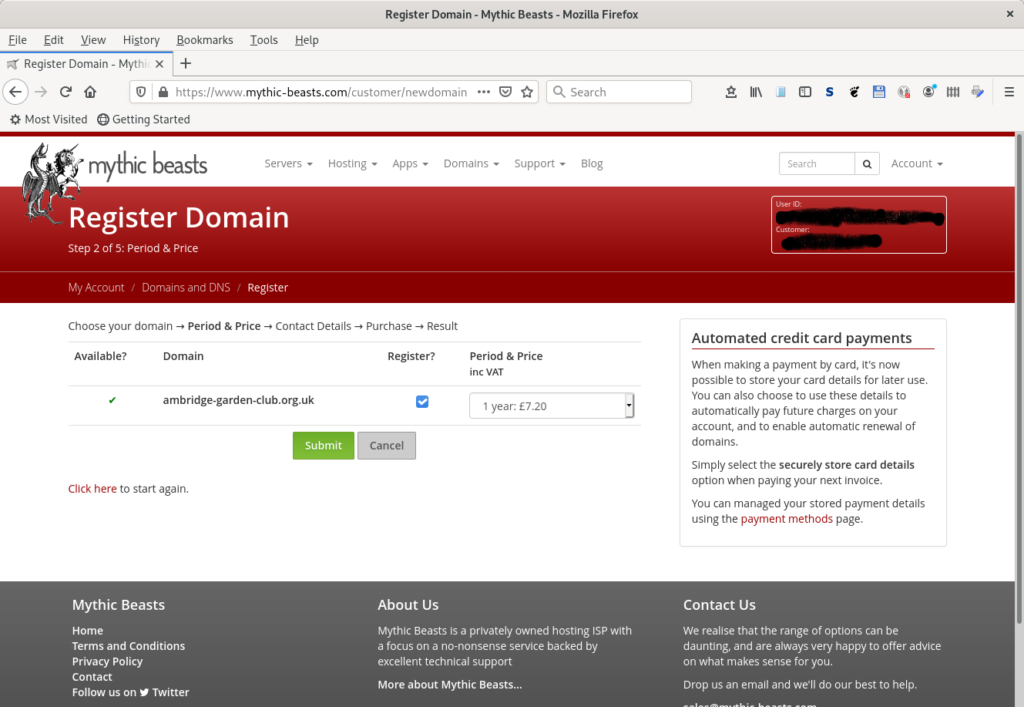 The system will check if the domain you want is available, and if so you will see how much it will cost.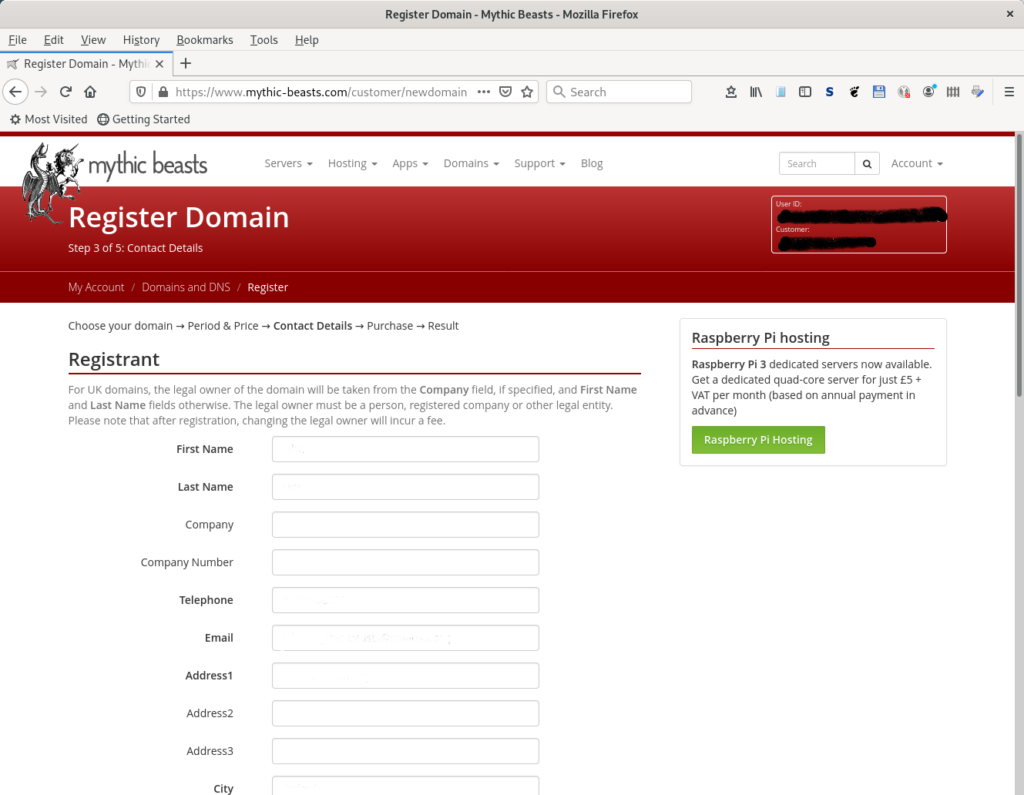 Here you enter the details of the person, and organisation who is registering the domain.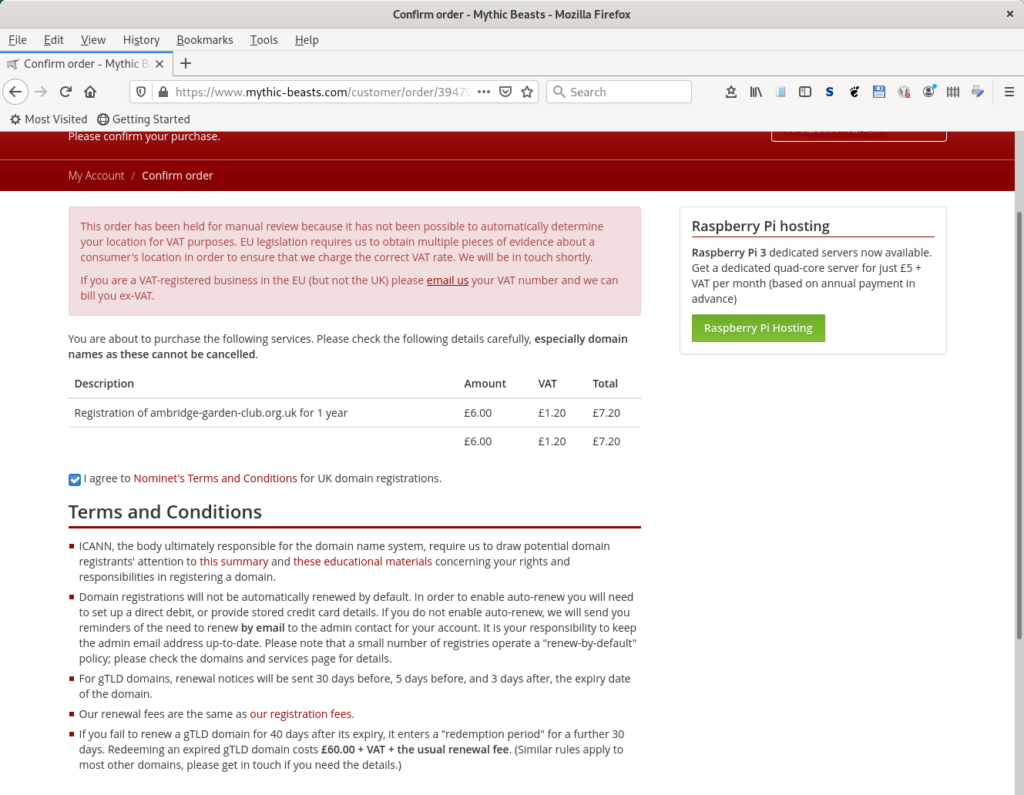 You are unlikely to see the 'held for manual review' section, in red – my personal setup is much more complicated than most, but you will see the requirement to comply with the terms and conditions.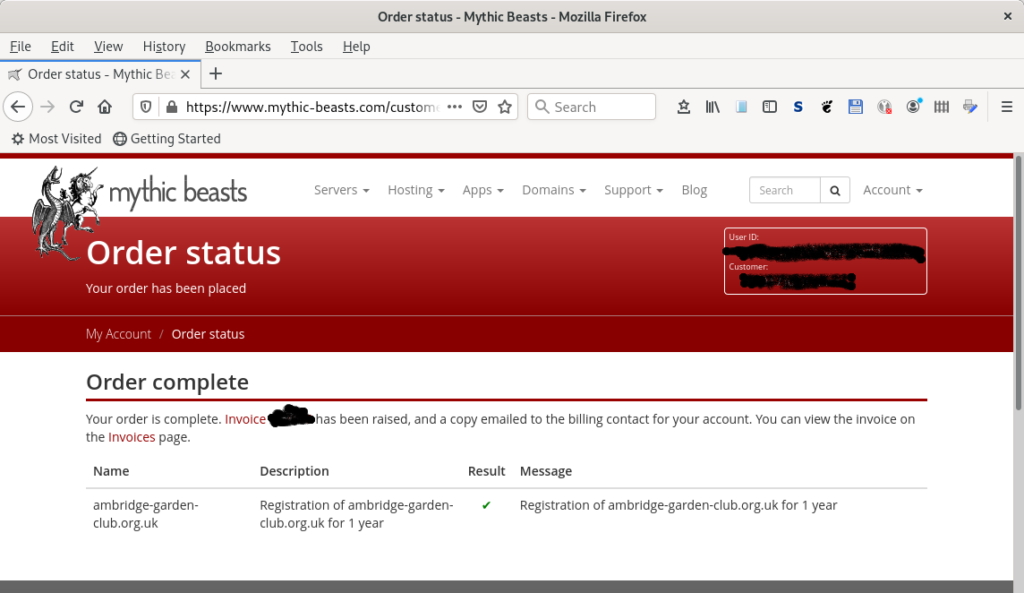 Having entered, or confirmed some billing details – you can pay by credit card, or direct debit, you should see a screen similar to the above.
Congratulations, your organisation is now the proud owner of a domain and you have started your journey towards an Internet presence.
Other options
I will not go into these in detail, but might expand on them, or add more at a later date.
Another hosting provider worth checking out.
Amazon has a bewildering choice of Web services, and even, this, their simplest option, requires an unfeasible amount of computer understanding for a garden club to manage. Other big cloud service providers also tend to aimed at buyers with an IT department or whose interests tend more towards computing than gardening (or knitting, model railways, croquet, local archeology or whatever)
A venerable hosting provider, note that they do not provide a Domain Registration Service, so you would have to shop for that separately.
An umbrella organisation
Some small organisations are part of a larger organisation, for example Scout troups and Guide companies in the UK come under the umbrella of the Scout Association or Girlguiding UK respectively. Similarly Phab Clubs, such as Oxford Phab, are affiliated to National Phab. Although Oxford Phab has a registered DNS name of oxfordphab.org.uk, if the phab.org.uk domain was administered for it, it would be possible to delegate oxford.phab.org.uk to a system controlled by the club. See the post 'It is good to be a Tree' for more on this.